Pre-Employment Programmes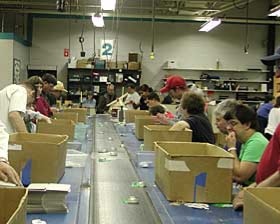 Sheltered Employment Training
The Sheltered Employment gives the opportunity to clients with intellectual or other severe disabilities to receive hands-on training in different tasks such as back office, assembly of products, packaging, etc. The duration of this training is of one year, during which, clients work within groups assisted by Job Coaches.
Skills such as work ethics, independent living, communication and social skills are embedded within this programme. The main objective of this initiative is to offer maximum opportunity to those with severe or multiple disabilities, possibly instigating achievement from sheltered to supported employment. For more information please click here.
Job Bridge Training Centre
The Pre-Employment Training is being offered to 4 distinct groups: persons with intellectual difficulties, persons with physical/sensorial difficulties, persons with mental health challenges and other vulnerable individuals. The training may range from 50 to 200 hours of training depending on the identified needs of each client. For more information please click here.